36 x 30 x 6 cm T6 Shipping Cardboard Brown Pack Packing Packaging Box Boxes
- Afraid to break your products/items while shipping?
- You can use this sturdy boxes if you really wanna secure the physical shape of your item.
- Safely store your item into this box to avoid any breaking issues.
- The wavy piece of board sandwiched between the liners and gives a box its strength and protection from knocks and impact damage.
- Lightweight yet it sturdy.
- Suitable for online seller.
- Dimension: 36 x 30 x 6cm
- Made with high quality of materials.
- 100% guaranteed that the product is inspected its quality before shipment.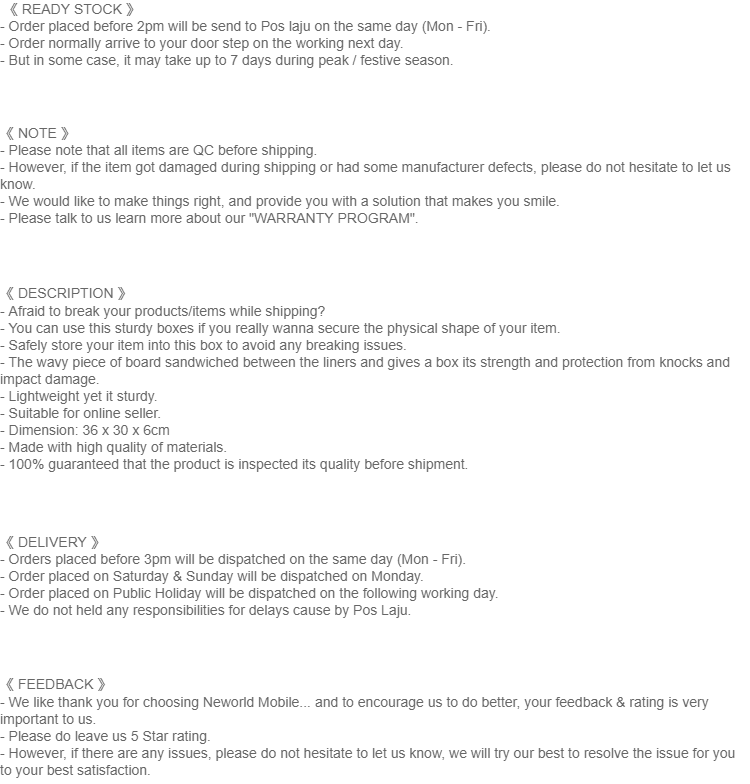 | | |
| --- | --- |
| Brand | Description |
| History | Color sit amet, consectetur adipiscing elit. In gravida pellentesque ligula, vel eleifend turpis blandit vel. Nam quis lorem ut mi mattis ullamcorper ac quis dui. Vestibulum et scelerisque ante, eu sodales mi. Nunc tincidunt tempus varius. Integer ante dolor, suscipit non faucibus a, scelerisque vitae sapien. |
Compare Products
You have no items to compare.